2022 Hyundai Santa Cruz Key Features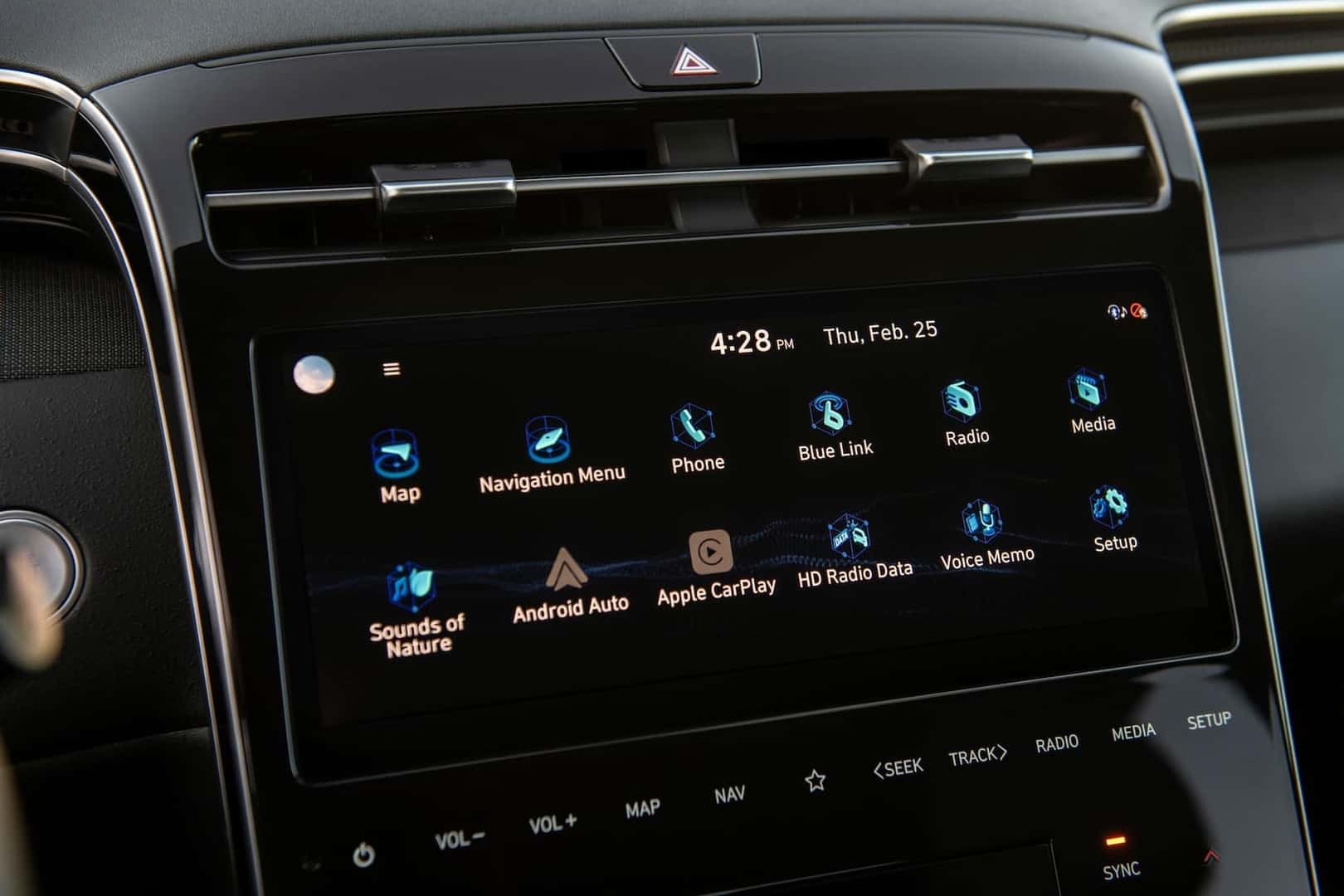 Advanced Infotainment, Connectivity and Convenience

Santa Cruz provides seamless connectivity and technology that helps drivers escape from the daily stress of long commutes, heavy traffic, road hazards and distractions. Drivers also expect to stay connected wherever they go, and the Santa Cruz provides this capability.
Santa Cruz offers a standard eight-inch color touchscreen. Wireless Apple CarPlay® and Android Auto® are also available to make staying connected easier than ever. Wireless pairing automatically connects an Android or Apple smartphone, so the driver can keep their phone in a pocket, backpack or purse. Owners can keep their devices charged on an available Qi wireless charger. Santa Cruz offers Digital Key supported by a dedicated smartphone app. The Hyundai Digital Key app also allows smartphones to control selected vehicle systems remotely. Users can lock and unlock the vehicle, activate the panic alert and start the engine. Digital Key allows owners to leave traditional keys at home and allows secure sharing of keys with family and friends. Digital Key is currently compatible only with phones using the Android operating system.
The Santa Cruz navigation system offers split-screen functionality that enables multi-tasking capabilities. Santa Cruz also offers an eight-speaker Bose® Premium sound system.
Blue Link® Connected Car System

The Santa Cruz receives many Blue Link® Connected Car service enhancements. As with most Hyundai models, Blue Link is complimentary for three years and includes features such as Remote Start with Climate Control, Remote Door Lock/Unlock, Stolen Vehicle Recovery and Destination Search by Voice and others. Blue Link features can be accessed via interior controls or through the MyHyundai.com web portal, the MyHyundai with Blue Link smartphone app, the Amazon® Alexa Blue Link skill and the Blue Link Google Assistant app. Some features can be controlled via Android Wear™ and Apple Watch™ smartwatch apps.
2022 Santa Cruz key features include:
* Remote Engine Start allows the owner to remotely warm up or cool down the vehicle using the Santa Cruz key fob on models equipped with Proximity Key and Push Button Start.
* Remote profile management—stores select vehicle settings to the Blue Link cloud, with the ability to remotely update and push back to the vehicle, personalized to driver preferences
* Remote start enhancements:
* Remote seat heating and ventilation(on/off/level for each individual heated/cooled seat)
* Profile selection (preloads individual driver settings for seating position/side mirrors)
* Vehicle Status Notifications—if the vehicle is left with doors unlocked or windows open, customers will receive a notification
* POI Send to Car now with Waypoints (ability to add up to three way points, to be delivered to the vehicle together and automatically set order of destinations)
* Maintenance Alert Enhancement—maintenance interval tracking is now visible in the multimedia system, with ability to reset