All-new IONIQ 5 in Hemet
The interior's most notable feature is the Universal Island moveable center console that can slide back and forth 5.5 inches. This movement, flat floor and gear selector located behind the steering wheel allow the driver to freely enter and exit the cabin on either side when parked in a narrow spot.
First- and second-row passengers can enjoy the island's cup holders, 15-watt wireless phone charger and USB ports. This console is big enough to hold a large handbag.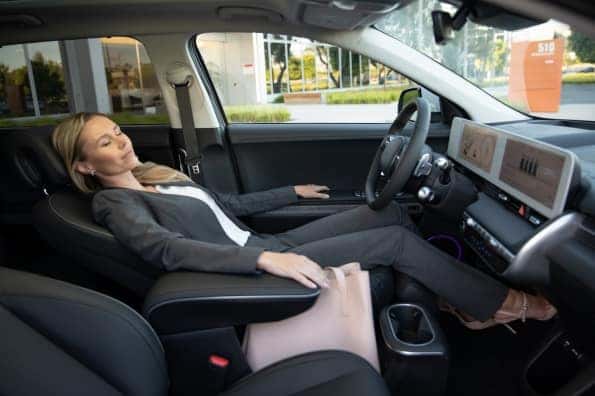 The shift-by-wire gear selector is easy to use. The driver just rotates it forward for drive and backward for reverse. Park is just a button click. This selector was ergonomically studied and is an example of the perfect execution found throughout IONIQ 5. A magnetic board just to the left of the digital cluster screen is ideal for posting pictures and notes just like on a refrigerator. Hidden ambient lighting brings a lounge feeling to the cabin and surrounds the speaker grilles for an extra level of detail.
IONIQ 5 is also equipped with an electronically adjustable memory driver's seat that reclines to the optimum angle and has a footrest underneath, offering a feeling of weightlessness. Hyundai engineers reduced the thickness of these seats by 30 percent, providing even more space for those seated in the second row. The second-row seats also recline and slide to provide more legroom than a midsize SUV and additional headroom. The sliding second-row seats also can provide additional luggage space when needed. To give the interior an even greater sense of openness, IONIQ 5's vision roof consists of one large glass panel without cross members.
Many of its interior touchpoints — seats, headliner, door trim, floor and armrest — use eco-friendly, sustainably sourced materials. These materials include recycled PET bottles, plant-based (bio PET) yarns and natural wool yarns, eco-processed leather with plant-based extracts, and bio paint with plant extracts.